Advert for The National Lottery commercial with Rent A Crowd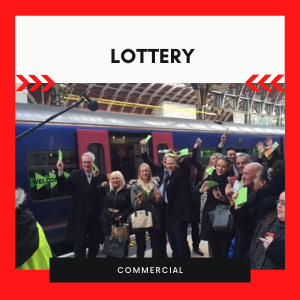 We have the pleasure of working with a top London based PR Agency who needed a large crowd with a very varied demographic. We provide crowds of people for all types of clients ranging from private hire and store launches through to commercial, TV & film. One of our favourite commercial campaigns was put together by a PR company for National Lottery.
Because we have a wide selection of talent registered with us our client was able to hand pick a team for the viral commercial where our crowd were on hand to make some noise!
The goal of this campaign was to produce a viral video from a publicity stunt, this video would promote the National Lottery scratch cards – the purpose of the campaign being to demonstrate that anyone can win.
Hiring a crowd to create real moments
When we work with any PR company, we understand that they have lots of elements of the campaign to manage, that is why our approach is always to make ourselves easy to work with and deliver consistent results.
We supplied a crowd of 20 people to help them create a buzz around the commercial and to make it viral success. The task at hand was sourcing a diverse group of people of demographics to represent the UK population. These crowd members would be boarding a public train from Reading to London Paddington Station where 1 in 4 carriages had a chance to win scratch card prizes or a cash prize.
The crowd were required to act as if they were members of the public on their commute to work – once the carriage winner was revealed, a live band started play-acting inside the carriage and the crowd had to set the scene by launching the celebrations. This was filmed by a covert camera crew, so it was imperative the hired crowd were unobtrusive.
The winning ticket and another successful advertising stunt
We were delighted to play our part in this event, where members of the public were surprised with prizes which really made their day! The staff performed in a professional and punctual manor making the event special. After a few weeks, the commercial went viral and managed to attract lots of views on YouTube & Social media platforms, making the campaign a great success.
Hire a crowd of people for a PR stunt
If you need to hire a crowd for a PR campaign, commercial, film or simply to boost numbers call our team on 0844 800 0071 or click here to send us your no obligation enquiry.