Be famous for a day – Hire people to follow you around!
As part of the rent a crowd service we offer we gets lots of interest for our "Famous for a Day" service.
We have all seen the attention that A list celebrities have when they pop out for brunch and sometimes we feel for them and the lack of privacy they have but have you ever thought what is it actually like to be famous?
Our famous for the day package allows you to experience the adoration that celebrities enjoy each and every day.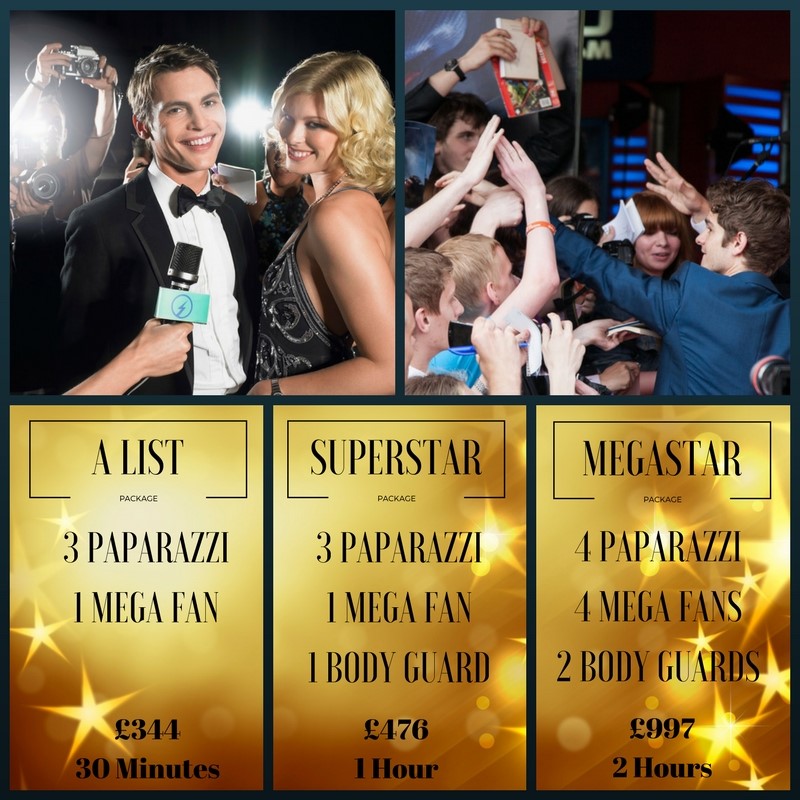 Celebrity for the day – How does it work?
Being a celebrity for the day is fantastic fun and the feedback that we have from our clients is that they absolutely loved it and want to use us again and again.
There is nothing we cannot do for you. If you want to hire people to follow you around, wait for you outside a restaurant, stop you and ask for your autograph, have pictures taken with you, enjoy the company of a bouncer to protect you from the paparazzi (which we have also hired for you).
There are so many options we can look at for you depending on your individual requirements and budget. Our famous for the day package has been used by clients throughout the UK for events such as….
• Hire Paparazzi for a prom
• Hiring fans to follow you around on a night out with friends
• Book attractive ladies to have pictures taken with you at your graduation
• Fans to cheer your name as you arrive at an event
• Crowds of people to wait for you as you leave a building cheering and taking pictures as you get into your vehicle.
• A bodyguard hired to keep you save from all the paparazzi
• A manager to walk with you asking the crowd to calm down as they cheer your name
• Random people coming up to you for pictures in a restaurant.
• A crowd of people to attend an event with you
Hiring a crowd of people to be your loyal fans
The process of arranging a crowd of people to make you famous for the day is very straight forward. Our team will talk through with you exactly what you want to achieve and how best we can make your day as a celebrity extra special. We will explain the cost and work closely with you to fit within your budget. Famous for a day has been purchased as gifts for family and friends so if you need us to be hush hush about the whole thing then that's not a problem.
Get in touch for a quote by calling 0844 800 0071 (local call rate) or email us your requirements by clicking here!