Flash Mob Hire for Wedding Proposals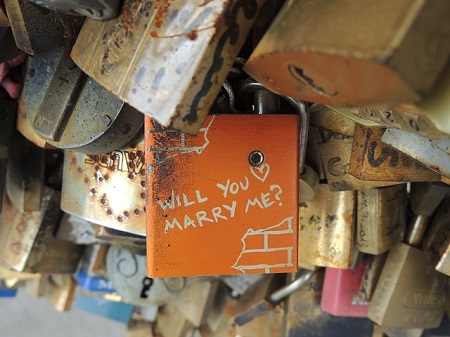 It's the stuff of memories, a story that will be recounted many times over the years. And that's why you want it marked out as being different.
You've made a great choice in hiring a flash mob to deliver your wedding proposal. When your other half says yes, it kicks off a new chapter in your relationship and we are proud to be part of that.
Romantics at heart, we know just how important this is to you. We work with you to create a truly special and unique proposal event.
Hiring a wedding proposal flash mob with Rent a Crowd UK
Asking someone to marry you and spend the rest of your years together is a big ask. You want to get it right, you want the right backdrop, with a heady mix of romance matched by creativity and uniqueness. In other words, you want the fact you have put time and effort into the proposal to shine through.
It takes some planning but the Rent a Crowd team is on hand to help you every step of the way to planning a unique marriage proposal.
One point of contact – with so much going on, it's important you have one point of contact at rent a Crowd who will oversee everything about hiring a flash mob for a wedding proposal.
Time, care, effort – we have helped hundreds of couples take the next step with all kinds of unique proposals. We don't do 'packages' but approach every wedding proposal on an individual basis.
Creative ideas – you'll have ideas of what and how you want the flash mob to help you deliver the important question and we can make that happen. We can also embellish your proposal, working with you on creative ideas from finding the right location, the right song, the right dance…
Talented professionals – with the date set and the wedding proposal idea firm, we set to work with our flash mob performers to create the performance you want. We have talented performers across the UK, all of whom will do their very best to make your proposal the perfect occasion (and get the right answer!).
We do everything – from sound to lighting, to coaching you and your family if they are in on it too, to delivering a spectacular performance that your other half will find irresistible.
Find out more about our flash mob wedding proposal service
Affordable and unique – what could be better? – our wedding proposal service is perfect for anyone looking to pop the question. Call us on 0844 800 0071 or use our contact form and let's start planning your perfect wedding proposal with a flash mob!