What is a Flash Mob and how can I hire one?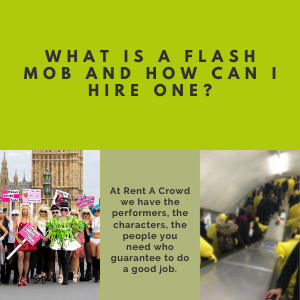 Want to attract attention? Then rent a crowd. It is human nature to gravitate towards a gathering crowd, curious to find out what is happening. A busy stand at a trade show or exhibition will always have lots of people around it thus attracting the attention of other potential visitors.
At a food and drink exhibition, the sight of several visitors happily sampling various bottles of cider immediately made other people stop and join in. Within a few minutes, there was quite a crowd gathered, trying the cider and quite a lot of new business resulted.
Renting a flash mob means that nothing is left to chance. You can guarantee that a crowd will form at a specific point in time at the exact location you require. If you want them singing, dancing, clapping or just being there and attracting interest, the choice is yours. It is a fantastic marketing opportunity.
Maximising the value of a flash mob
Rent a professional crowd. At Rent A Crowd we have the performers, the characters, the people you need who guarantee to do a good job.
Add some red carpet glamour. One of our recent clients had Hollywood themed sales conference. We provided a flash mob to greet the employees on arrival, cheering, taking photos and asking for autographs just as if the employees were Hollywood stars
Launching a new product into a competitive market using a hired crowd to attract the attention of prospective customers, providing a perfect opportunity for the promotional team to talk about the product.
Create atmosphere with PR Stunts – what better way to create a buzz around your product than to have lots of unexpected singing and dancing?
That's just a few of the possible ways you can attract attention. We can provide lots more suggestions, contact us for details.
Why are flash mobs successful?
Flash mobs are the perfect way to engage with customers directly. It helps bring your promotional strategy to life, linking to your offline marketing activities such as handing out leaflets as well as online social media. After all, the fun activities of a flash mob are perfect for sharing on social media.
Hire a flash mob and bring some fun into your marketing
Talk to us about experiential marketing and how a flash mob can work for you. Whether you are looking for a PR stunt, a marketing promotion, or exhibition attention – or ideas on how to use a flash mob – just contact us on 0844 800 0071. We can help.