Acting and Extras Work after Covid-19 Lockdown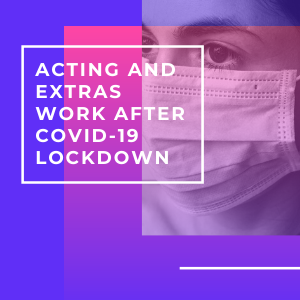 It's been a hard year for the acting profession – with theatres closed due to the pandemic and few opportunities available to practise their craft; actors have had to seek alternative roles. Even filming and TV production has been limited in what it can do. Life remains uncertain in this post-pandemic world, as no one knows quite what to expect as to what the future will hold, or how our way of life may change.
When will theatres and cinemas reopen?
Depending on whether the virus is under control, theatres and cinemas are likely to begin reopening in July. Vue has indicated that it hopes to open mid-July. There may still be some restrictions in place such as social distancing. The introduction of staggered seating looks probable, allowing people to be grouped by households, thus having to just keep one seat free between groups. Such a technique is already being used in New Zealand, Portugal and Germany.
On-line booking is preferable, and there will be greater emphasis on cleaning regimes.
But some theatre bosses remain concerned. Any form of social distancing will mean less tickets sold, lower revenues resulting in ticket price increases which could deter audience numbers. Speaking to the BBC, Sir Cameron Mackintosh stated bluntly "the truth is until social distancing doesn't exist any more, we can't even plan to reopen.'
What does this mean for performers?
There is evidence that production of theatre and film is slowly beginning to restart. The British Film Commission issued guidelines on 1 June which are acting as a general roadmap to reopening throughout the industry, creating guidelines covering everything from social distancing, stunts, catering, hair & makeup.
Opportunities for work are beginning to appear, albeit slowly. It is still uncertain just how re-opening will work behind the scenes for the performers and crew. Any continuation of social distancing in any form does affect costs, and it might well affect the number of people being employed especially in crowd scenes. More outdoor filming is likely since it is easier to provide the necessary space. Actors assuming responsibility for doing their own makeup is becoming the norm.
Greater flexibility in seeking out work opportunities will be necessary. Joining the register of an event company providing small and large crowds for stunts and promotions, taking on roles in special events at family locations seems set to become an increasingly popular option.