Ever thought of being an TV or Movie background extra?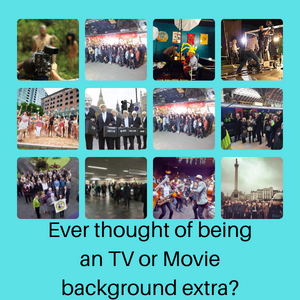 It's a great way to put dramatic talents to work. Extras are frequently needed for all kinds of films, TV series as well as crowd scenes for publicity promotions.
Just think of the number of crowd scenes you see in every production – people walking down a high street, having a meal, playing in a park, taking part in sports. For every lead part, there are always several extras needed.
Sometimes there might be work for extras with special skills such as horse riding, dancing or sailing.
Days can be long on set, so bring something to do while you wait. Learn lines from a script, read a book, try a craft such as knitting or crochet. Be prepared to sit quietly in a corner until you are needed.
Don't forget it can also provide some opportunities to learn by watching the lead actors. Watch and learn – but don't interrupt them or ask them questions. Remember they are working, and need time to concentrate on their roles.
Finding work as an extra involves signing up with an agency like Rentacrowd. You will be asked to fill in a form giving all your physical details, contact details, as well as any special skills that you may have. Worth mentioning too if you have any special resources or props that you can use if necessary such as a Santa outfit, golf clubs, ice skating or driving a motorcycle.
Most importantly, keep those details up to date. Make sure that your agency is aware of your availability, and of any extra experience, skills or props that you acquire.
Top Tip for when you start Background Extra Work
When you receive a booking, make sure you arrive on time and fully prepared. Do your research beforehand. If it is a TV series, watch a few previous programmes to get a feel for the atmosphere, the characters and storylines. If it is a promotion involving a crowd scene, familiarise yourself with the details and the setting so you know what to expect. Be prepared to get into character at a moment's notice. No matter how small the role of an extra, it is all valuable experience which can give you added confidence when you apply for other roles.