Our favourite PR stunts of 2020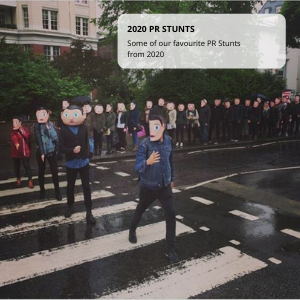 So yes, 2020 was a disaster for a lot of people. But it did make for some genius PR stunts that we want to celebrate.
Here are some of our favourites!
Madame Tussauds moved Harry and Meghan
Back in January, back when Harry & Meghan announced their departure from the Royal Family. Quick to pounce on the opportunity with effective newsjacking for which the brand is rightly known. Madame Tussauds simply moved their wax works.
Thai Airlines' Home Miles
It was surprising that one of the worst hit industries had one of the best campaigns. Whilst many airlines were panicking (rightly so) Thai airlines encouraged their customers to stay at home by re-working its loyalty app to reward people with Air Miles when they stayed at home. Customers popped their home address into the app and agreed it could track their location. They were then rewarded with Miles the longer they stayed home.
#ratemyKFC
In our opinion its already the best fastfood restaurant. But this campaign was much appreciated back when we could not visit. They invited customers to attempt to make their own KFC at home with prizes for the winners.
Brewdog F*ck You C02
One brand that has really burst onto the scene and quite possibly been the biggest success stories of the last 5 years is of course Brewdog. The Scottish brand is never shy of a bit of controversy, the Scottish craft beer brand emblazoned the slightly obscured words 'F*ck You C02' on billboards in cities across the UK. It was to inform audiences efforts to tackle climate change and become a carbon-negative operation.
Borat floating down Thames
GREAT SUCCESS – We were "very excited" to see a 100m long inflatable blow-up Borat appear down the Thames. The public loved it. PRs gasped at it. But it was so worth it. The cliché was perfect for everything Borat stands for. Even down to the facemask turned mankini.
Are you looking to hire a crowd for your own PR stunt?
All you need to do is talk through your requirements with our experienced and professional events team. They will discuss your exact needs for your crowd including numbers, demographic and personalities.
Call the rent a crowd team on 0844 800 0071 or pop us an email for a free and fast quotation.