Rent-A-Crowd PR stunt – A crowd of Boris extras!
When our client Oxfam approached us to discuss an upcoming PR stunt we certainly weren't expecting to be asked to provide six male extras to dress up as Boris Johnson! They asked – and we delivered!
Oxfam believed the group of Boris's would be a fun way of attracting attention to their more serious political message. You can see from the photograph below our actors really looked the part – from being dressed in a very 'Boris' style suit and tie, wearing the unmistakable blond wig one of them even sported a fake oversized fibreglass head!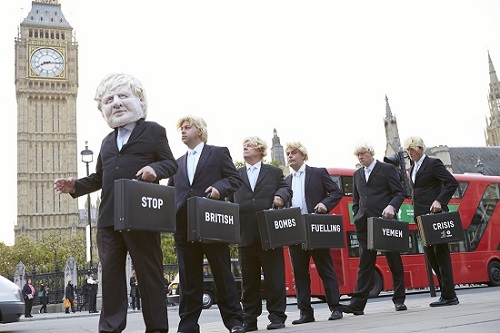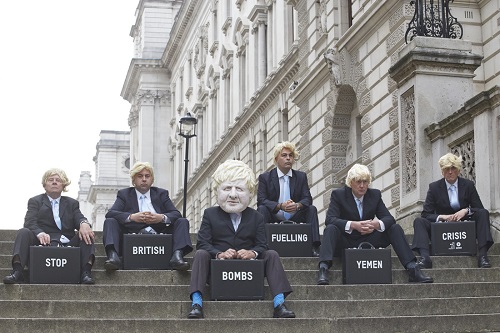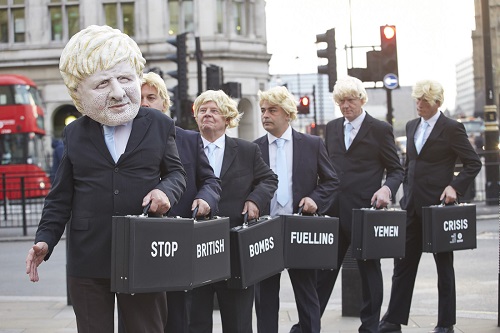 The group of extras walked around central London, heading towards Whitehall then finally over Westminster Bridge, each carrying a briefcase that spelt out the message of 'Stop British Bombs Fuelling Yemen Crisis'. The group of extras walked through busy London streets and as you can imagine attracted loads of attention from locals and tourists alike, all while remaining in character and maintaining a serious expression.
To pick the right actors for this job, our experienced bookings team carefully selected suitable staff and dedicated time and effort interviewing, selecting then briefing the successful applicants to ensure they fully understood the specific brief and requirements. It was important that the extras ensured they remained in character throughout the activity and would be able to cope with all the public attention that they would receive!
Traffic Stopping PR Stunt in London
Oxfam were delighted with the activity and gave us great feedback. At the heart of the PR stunt was a serious political message, but taking a slightly quirky approach was a great success. The sight of six Boris's walking the busy London streets certainly got the general public talking about and engaging with Oxfam's message. Word spread via social media posts and photographs which also led to journalist and media coverage too.
Hire Extras in London for Your Unique PR Activity
Rent-A-Crowd can provide actors, extras and rent a crowds to you for your PR/Marketing launch needs.
We have over 12,000 staff across the country with excellent coverage in the London area. If you have an unusual idea and are looking for a company to work with to make that idea a reality please contact us.
Having lots of experience working with both PR agencies and clients directly so we get the pressures, deadlines and budgets you have to work with. If you want to learn more and talk through your idea and requirement then pop us an email or give us a call, we would love to hear from you.